Available Now: "Flight School: One Summer, Many Choices" (Giveaway!)
Posted by Jason McIntire | Sep 01, 2015
Today, we're thankful to announce the release of Flight School: One Summer, Many Choices, the long-awaited sequel to The Sparrow Found A House by Jason McIntire.
In Flight School, the Rivera kids are back with old friends, new friends, and new adventures. As they begin to grow up, they're also beginning to discover the problems, possibilities, and choices of adult life. How do you find your calling? How far should you go to pursue your chosen career? And what about relationships between (gulp) boys and girls?
You'll find these questions and more in Flight School, answered with the solidly biblical perspective you've come to expect from Elisha Press.
Flight School is available now through Amazon, priced at $9.99 for the 256-page print edition and $2.99 for the Kindle version. You can also enter to win a signed print copy below. Four of those will go to random recipients next week.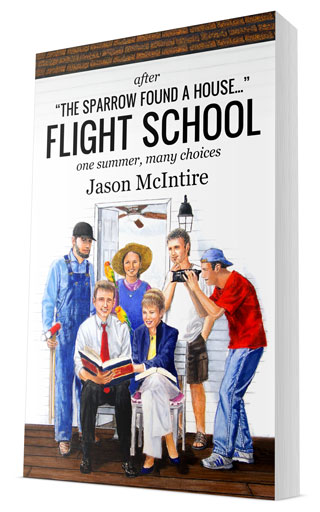 Synopsis
On the verge of adult life, Chris Rivera is eager to get started on his career as a director of Christian movies. But he'll have to do it without his best friend Ben, who has traded childhood toys for law books... and a very pretty study partner.
Meanwhile, Jessie is getting a lot of attention from conservative neighbor John and trendy friend Galen – each of whom, for drastically different reasons, seems a little too good to be true.
In the face of hard questions and big temptations, how do you know which choice is right? And where do you get the courage to make it?
Praise For "Flight School"
"...will encourage readers to press on in the Christian walk and study to show themselves approved unto God."

- Alicia Willis, Christian author
"Jason McIntire has created another wholesome, engaging contemporary story that affirms traditional values. The interesting plot not only entertains but also encourages young people to think more deeply about the consequences of their behaviors and actions."

- Alicia Ruggieri, Christian author
"I just 'had to' read one more page (or twenty). In my honest opinion, I recommend "Flight School" 100%."

- Tanya, Christian homeschool blogger
"This author is adept at doing God great honor in his writings. As I read this newest novel, I could not help but contemplate my own (life)."

- Renee, Christian blogger
"... exciting, hard-to-put-down story ... I could identify with their struggles and temptations and found the lessons they learned about life and their Christian walk applicable to me as a believer.

- Amanda Tero, Christian blogger