Book Review: "A Cry From Egypt" by Hope Auer
Posted by Jason McIntire | Sep 08, 2015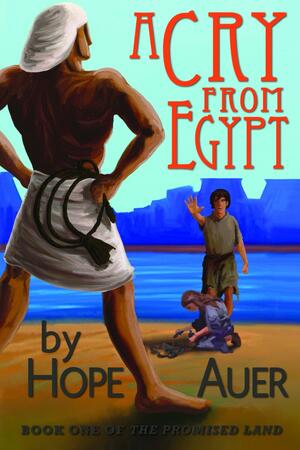 At this year's SHEM Convention in Springfield, Missouri, I had the privilege of meeting in person Hal and Melanie Young. Best known as the authors of Raising Real Men, these folks have also published two fiction books through their label, Great Waters Press. Both of these are stories about the Exodus written by a talented author and homeschool graduate named Hope Auer.
When we first decided to establish Elisha Press back in 2012, Mr. Young was very helpful in providing advice and input. He took time to do more question-answering for me at SHEM 2015, and he also gave me a copy of Auer's first book, A Cry From Egypt, for review. I actually read it soon after the May convention, so I apologize for any errors caused by the dimming of memory over time. This summer pretty much disappeared into our own publishing efforts, with no time left for book reviews.
Written for younger audiences, A Cry From Egypt retells the story of the Exodus through the eyes of Jarah, a young Hebrew slave. Her family runs a bit counter to biblical stereotype: Her mother is a worshiper of the Egyptian gods, and is constantly ragging on her father and siblings for believing in Yahweh (as God is referred to in the book). Mariel's idolatrous inclinations are useful for the narrative, as she is always handy to promote the Egyptian perspective when there aren't any actual Egyptians around in the scene.
Historically, A Cry From Egypt contains some interesting information. For instance, Auer explains how each plague was targeted as a judgment on a specific Egyptian god. When it comes to culture and day-to-day living, though (especially that of the Hebrews, of whose life in slavery we know very little), there really isn't much history available. So the author improvises, which in this case pretty much means projecting modern conversation and thought patterns onto the ancients.
Christian girls will have no trouble identifying with Jarah - because, apart from the externals and terminology, Jarah is a Christian girl. Her doubts and struggles about Yahweh of the Old Testament can just as well be applied to Jesus Christ of the New. Her struggles with character issues like patience and trust are no different from the readers'. And fundamentally, there's nothing wrong with that approach - especially in a book meant for children. Culture changes, but human nature really doesn't.
The book features quite a few beatings and floggings (with blood and screaming), a near-strangling or two, and some non-passionate romance. Apart from those elements, A Cry From Egypt is quite clean. (It's also well-edited and relatively free from typos, which I appreciate.)
Retelling the Exodus story is challenging for at least one obvious reason: we already know how it ends. So Auer doesn't really focus on the Exodus itself, but rather on Jarah, her friends, and their struggles with faith in the midst of world-shaking events. In my opinion, this is a good strategy that the author executes well. A Cry From Egypt is simple, but it kept my interest up until the end.
As mentioned, this review was made from a free book which I received for the purpose. You can learn more about A Cry From Egypt - and its sequel, A Stand At Sinai , at the website for both books.