It's Here: "Susanna Don't You Cry" By Zachary McIntire
Posted by Jason McIntire | Feb 02, 2016
Susanna Don't You Cry, a debut novel by Zachary McIntire, is now the fifth in our growing family of Elisha Press titles. It's available through Amazon in print and Kindle editions.
What happens when a man deserts his family, then tries to sneak back into their lives after years apart? What happens when he discovers that his wife and daughter have already found Someone else - Someone who loves and wants him too? What happens when the hatred of an abandoned son leads him down the same path as his faithless father?
The Kincaids find out, and so will you when you enjoy this realistic and fast-paced contemporary novel. Geared toward teens and adults due to subject matter, Susanna is presented with grace and tact - and with the biblical perspective that alone can make sense of any story.
"From graffiti to the grace of God, from scandal to salvation, from hatred to hope, Zachary McIntire has woven the gospel into the very structure of this captivating novel. Yet there is no preachiness here, just a great story about some very human characters. Enjoy!" - Annie Kate Aarnoutse, Christian homeschool blogger and book reviewer.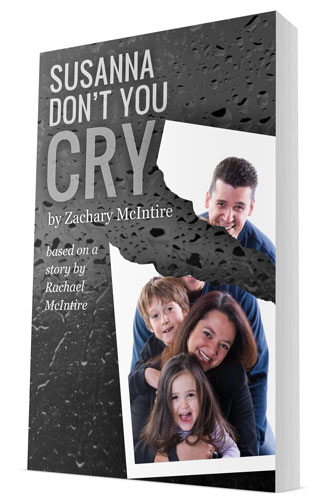 From The Back Cover
"I'll never forgive him - never!"
Chuck Kincaid made a vow of hate the day his father walked out, and he still keeps it ten years later. His sister's bad choices, his mother's drug addiction - he knows who to blame for all of it.
But when Susanna and Kelly get their lives turned around by Jesus, Chuck doesn't know what to think. And why is the rich stranger with the scarred face so interested in being his benefactor?
Failure and restoration. Hate and forgiveness. What is broken can be put back together, one small piece at a time.