"What Would You Name Your Violin?" - An Interview With Amanda Tero
Posted by Jason McIntire | Mar 26, 2016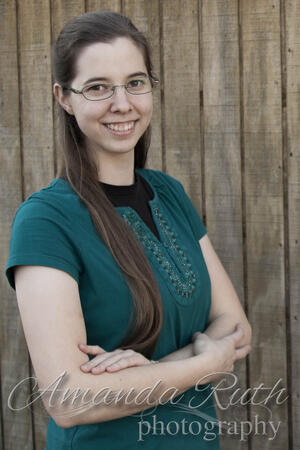 My writer friend Amanda Tero has recently released the first novella in her new Orphan Journeys series, called Journey to Love. It's a sweet story, and I recommend it especially to the young ladies in the audience. (Relevant links to follow after the jump.) As part of Amanda's launch tour for the book, she consented to be interviewed here on Elisha Press. We did this a couple of months ago, so don't get confused by the references to cold weather.
The Interview
Apart from saving you and putting you in the Tero family, what is the best thing Jesus Christ has done in your life?
Choosing just one, I would say giving me the Bible and the ability to read it. I know that probably sounds all "super spiritual" but truly--it is my guidebook for life and has directed my steps! On a more normal level...giving me the talents that He has given me.
Writing comes with many challenges. What is the biggest challenge for you? How do you overcome it?
The biggest challenge for me is finding a balance. I am a writer, yes, but before that I'm a daughter and sister. It is tempting to get sucked into the thought, "I'm over twenty, I want writing to be my job, so goodbye family." The best moments I've had in overcoming that have been from my morning devotions (God convicting me of my selfish attitude) and continual prayer.

*Sheepish grin* Unless you meant the actual process in writing...in which the solution is the same: praying and going to God's Word.
In addition to writing, you also travel with Tero Family Ministries. Tell us about a typical day (if there is such a thing) on the road.
Wow. Well...first of all, I guess I don't envision my family as an "on the road" music group. We haven't, at this time, gone out on tours or sought out a certain singing schedule. We just take ministry opportunities as people ask us. For example, in January 2016 we sang at three different places. February...two places as a family and a weekend ladies retreat where just us girls are doing music. In 2015, there were times when we hadn't attended our own church in six weeks because we were always singing elsewhere. So, that in itself gives way to randomness. Plus, in the past year, our family ministry has been changing. Within a year's time, we will have done children's activities for three camps and one weekend conference, and have headed up a whole weekend children's program (skits, music, puppet shows, Bible lessons, etc.). So who knows? We may be getting more involved with children's ministry than just singing. Plus, our leader, tenor, guy-lead, and guitarist (aka, the brother right above me) is getting married in August, Lord willing. This is causing some serious adjustment in our repertoire! So now we're working up some new songs. Previously, our tradition was to practice the day before we had somewhere to sing (*guilty grin*). I'm not sure if all of that quite answered your question...
Looks like I assumed facts not in evidence when I checked out your family website. From the number of dates, I figured you would be on the road quite a bit. Guess you're just in high demand locally!
A lot of people assume that we travel a lot, actually. :) Though we go where invited and have been to Michigan, Missouri, Arkansas, and Colorado, for the most part we are usually in Mississippi and Louisiana.
If you could be permanently transported, together with your family, to any time, place, and culture, what would you choose?
It depends on the latest era that I've read or researched. :) The late 1800s in the West...a Louisiana plantation...medieval times...
How's the weather in Mississippi? Wait - don't answer that. It's freezing here and you'll make me jealous. What's the best thing about living in Mississippi?
And I'll be jealous if I hear any mentions of snow. ;) Mississippi is a roller coaster of weather...but onto more interesting things than weather, I love the people around where I live! Our church has such a sweet spirit--as well as the twelve other "sister churches" in our association. Otherwise, I love that, after moving from Louisiana with my family and leaving behind a full piano studio, God has seen fit to bless me with a bunch of new students!
Do you have a favorite game to play with friends?
My family and I love games, and usually rotate through favorites. If given the choice...volleyball? Can that be a game instead of a sport?
I guess it can be whatever you want. For me, it's just a way to make my hands hurt....
If you were going to name your violin, what name would you choose?
Well...not to offend anyone out there who names objects, I've just never been into the "naming things." I have never, ever thought about naming my violin. :) And I'm not much of a dreamer...but if I did name it...it'd probably be "Surrender" or something like that, based on the unique way in which God gave me my violin (100+ years old, handmade German).
I'm actually not big into naming things either. I just had violin names on the brain because of beta reading When Life Hands You Lymes for Lydia Howe. (Fans of that story will know what I'm talking about.) But now that you've mentioned the way you got your violin, you have to tell us about it.
I started playing violin when I was seven, and around my twelfth birthday I saved up enough money to buy my own violin--a Cremona, $89 student violin which I advanced on. When I was about seventeen, I could sense that the violin just made playing difficult and limited. So, I brought up the need for a new violin to Dad and Mom. Having ten siblings (at the time), I was used to the fact that, while my parents would love to buy everything we needed, instruments are expensive, our family is a musical family, and we just can't foot the bill for $1,000+ new instruments for everyone. So I started saving again and began looking. We visited someone who sold violins, and it was easy to fall in love with violins that cost way more than this teen-with-only-a-few-students could even hope of buying.

We went to Arkansas on vacation in January, and I held onto my $200, hoping and praying that maybe, in one of the pawn shops, I could find a steal. After looking at violins that were worse than the one I currently owned or were white, pink, or black on top of sounding bad, I was getting pretty discouraged.

One evening, we watched "The Pineapple Story" video by Bro. Otto Koning. The basic lesson of that story is yielding and surrendering my self-perceived "rights." God used that to help me learn that while I thought I needed a new violin, I didn't have the right to demand one. I remember climbing into our van after another disappointing pawn shop visit and, at that moment, giving up a new violin. If God provided a new violin for me, that was fine. If He chose not to, that was fine as well. I would just keep saving my money and praying.

Right at a month later, we traveled up to St. Louis to visit our uncle and sing at his church. On the way, my uncle called and said that a man in his church decided he just wanted to give me a violin out of his collection. What?! We went to his house where he showed us most of his violins (he was "down to" forty violins) and then he brought me "the one" (as I mentioned, German handmade, 100+ years old). I honestly don't know the monetary worth of this violin, but it far exceeds the sound of my old violin, and the lesson in faith that I learned from it is invaluable.
Awesome story! And all I intended to ask about was what you would name the thing....
Suppose you're on an elevator with a potential reader. You have thirty seconds between floors to tell that person who you are, what kind of stories you write, and why they should care. What do you say?
Haha! Am I supposed to be that eager to gain new readers? Whoops! Um...I'm a born-again believer who will definitely have an identifiable Christian theme in my book, usually "reteaching" lessons that God has personally taught me. I can talk fast, so I could probably get more than that in thirty seconds but I'll spare you. :)
Spreading the word about your writing as an independent author is tough. Any tips on what has worked best for you?
Pray. When I was just getting into publishing my short stories, I heard a sermon in which a side note really stood out to me: God gave the Israelites different battle plans for different battles. At that time, I was hearing and observing a lot of what other authors did...but the Lord showed me that, while I can glean ideas from others, ultimately I need to seek Him, because what He leads one person to do just may not be what He wants me to do.
With that said, one of the areas that God has led me to do is getting connected with other writers and readers. Goodreads and FaceBook have been helpful in that area. As an author, it's not about me "gleaning" but also giving.
If you could somehow broadcast a one-sentence admonition to all Christians in your age group worldwide, what would it be?
"Turn your eyes upon Jesus--look full in His wonderful face--and the things of earth will grow strangely dim in the light of His glory and grace." (I know, I'm unoriginal and may or may not have tweaked punctuation rules to make that into one sentence, but there's really no better advice than to turn our eyes upon Jesus)
Good advice (and an awesome song). Thanks for honest and interesting answers. I hope Journey to Love does very well!
Find Amanda Tero and Journey to Love Online
Amanda Tero is on several different social media platforms, links to which you can find at her recently-updated author website. You can also follow her personal blog or friend her on Goodreads. And if you just want to check out Journey to Love (or buy it already), you can find it on Amazon.